SHE BARES IT ALL: Taking Ownership of your Life
A column by national rower and Olympian Aisyah Gala
You know that bucket list of yours that has things waiting to be checked off? There's a reason why you have it in the first place- to do something you've never done before, to push your limits, to have an adventure of a lifetime, to grow…
You don't have to wait for things to happen. Take things into your own hands and be in control of your life. This is your life. If you don't want people to tell you what to do, why are you allowing others to tell you how to live your life?
Yes, you may listen to advice from your friends and family who may tell you what is best for you. I mean, people will always have something to say, but you only listen to one person- yourself. If you don't trust yourself enough to listen to, then you need to sort that out.
I don't care what's in that bucket list of yours but having one already tells me that you're an ambitious person with goals. It shows that you're taking that initiative to do something that YOU want and not what others want, and that is exactly what you should be doing. So, I hope those goals are yours and not what others want or hope for you to achieve.
We should be living our lives the way we want it to be. Stop living up to other's dreams and expectations. Respect yourself enough to say, "THIS IS MY LIFE. STOP TRYING TO TELL ME WHAT TO DO WITH IT." Having a goal or a dream, no matter how big or small, gives you a sense of purpose and by having purpose, you wake up everyday with meaning in your life. And to me, that is awesome.
After the Olympics Games in Rio last year, I went into a limbo phase when I had no big goal to work towards because I've reached my biggest goal to be an Olympian. That journey to the Olympics took up so much of my life that I had no space for other goals – and that was actually a big mistake on my part. Because in the following days after the Olympics was over, I felt empty. It was so hard to find another goal as big as that. (Easy for you to say, "Aim for the Gold medal lor". But like I said, the goal has to be yours, not what others want for you.)
So back to that bucket list of yours. Are there things in there that actually scares you at the thought of doing it? IT SHOULD. It should be scary because it is possibly something that is definitely out of your comfort zone and like they say, life begins when you're out of your comfort zone. If it doesn't scare you enough, you need to dream bigger. Big dreams are supposed to scare you, but don't be turned off by that fear. Instead, use it to motivate you to overcome it. Use your fears to your advantage. Don't let it consume you. YOU CONSUME IT, eat it like a piece of red velvet cake.
(I should start writing all these motivational self-help books at the rate I'm going preaching you with these stuff)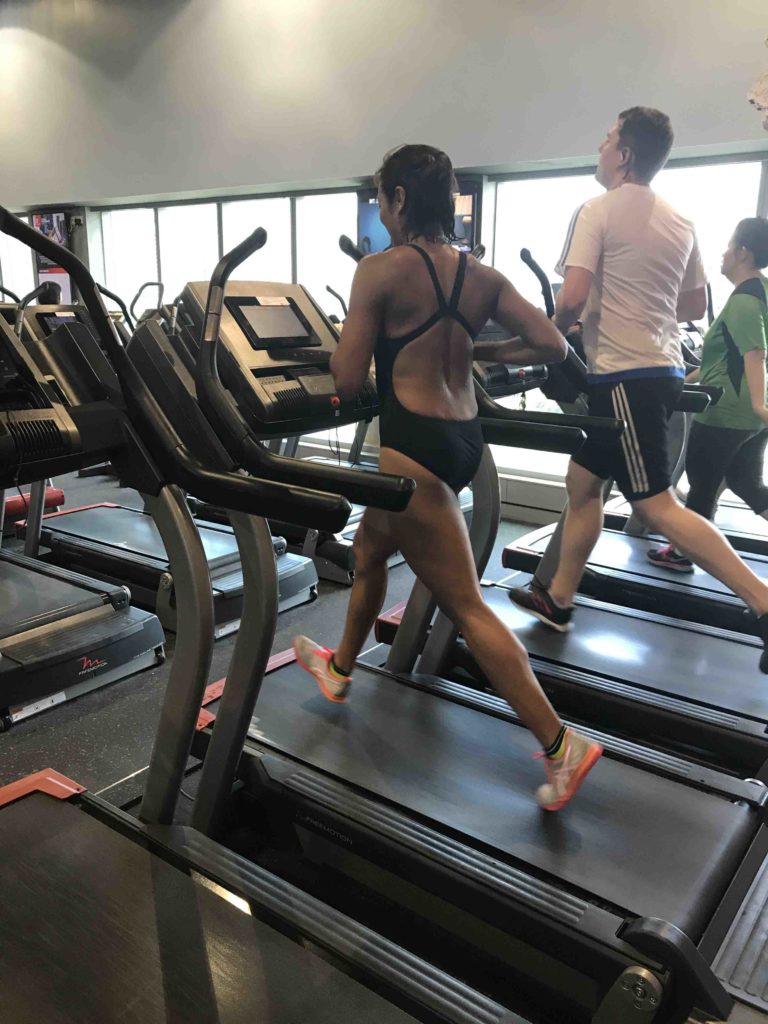 Completing a triathlon has always been on my bucket list. I have always wondered what's so fun about doing this multisport event, like hello, isn't doing one sport enough to take away your life?
So, the only way for me to answer these questions is to experience it for myself. I signed up for my first race which would be at the TRI-Factor Triathlon on 6 August. I don't want to go crazy and jump into the Olympic Distance so I registered myself for the Sprint which is a 750m swim, 20km bike and 5km run.
As much as me and bikes don't go along well considering the number of accidents I have on it, I am more worried about the swim. Well, for a start, I only started learning freestyle in January, right before I dislocated my shoulder. With the injury, I couldn't swim and only started attempting doing laps last week. Even then, I could not even complete 25m without stopping. I am also afraid of the open sea because I broke my nose at the beach in the water when a surfboard smashed into my face. To sum up this idea of how crazy this journey is going to be, I only have one month to train for it.
Goals are supposed to be big and crazy remember?
I've been working on my swim a lot. I started off aiming to complete 25m of freestyle swimming. One week later, I'm doing 75m non-stop. Which is a 300% improvement if you want to look at it that way. But that also means, I have to complete 10x of that for the race.
At least two other girls have told me that they did their first triathlon using the breaststroke technique which I am more comfortable with. Also, in the open sea, I have to be doing this thing called "sighting" to look out for the direction I'm swimming towards. It will also scare the sh*t out of me knowing that I won't be able to see anything underwater because I have only been swimming in the pool where I can see the bottom of the pool and the lines. So, yes, I am now considering improving my speed on the breaststroke rather than learning to do laps with a freestyle.
I have not cycled on the road since January and the last time I cycled on the road in Singapore was in 2015. Sometimes I don't even know why I'm even embarking on this. But I've committed to it and there is no turning back.
I'm not so worried about my run but I have never ran straight after a swim and a bike ride. So, good luck, legs!
All in all, it is a crazy journey and I encourage any of you who wants to do your first triathlon to allow yourself some time (read: at least three months) to prepare for it. One month is definitely not enough but my aim is to complete the race and considering that I am a full-time athlete, I have the luxury (if you see exercising and pushing yourself to the limits a luxury) to train almost everyday.
So I am confident of my heart, lungs and body being able to complete the race. It is just a matter of how I'm going to survive that swim and how much my legs are going to take on that day. You follow my progress on my blog at aisyahrower.com. I would very much appreciate your support and tips, whether you have just finished your first triathlon race or is preparing for your 100th one.
I really hope that this journey I'm taking will motivate you to take ownership of your life. If triathlon is something you've always wanted to do, Rock The Naked Truth has recently launched a ROCKtri development programme that is perfect for rookies. Otherwise, do something that scares you everyday. You will definitely learn a thing or two from it.
And most importantly, don't let fear stop you from achieving something. Now go on and don't let that bucket list of yours collect dust in the far corner of your bedside drawer. Only you have the power to make things happen in your life. Own it, people! x